We are so grateful for our grant award from the Community First Foundation this month.Jefferson County was our starting point as we began to serve the community with passion, vision and hard work.
"Our journey began in Jefferson County. In 1975, we were founded as the Lutheran Medical Center Foundation and initially served as the fundraising arm for the hospital on Denver's west side. Over the years, we have grown and changed to become the community foundation we are today. For example, in 1997, we became a community foundation and transformed into LMC Community Foundation. In 2007, we changed our name to Community First Foundation to reflect our broader mission. "
This money will directly impact our ability to expand our capacity. We currently serve eight schools which are Title One. Our program provides weekly a bag of about seven items to Emory Elementary Lakewood, Lasley Elementary Lakewood, Edgewater Elementary, Mulholm Elementary Lakewood, Foothills Elementary Lakewood, Everitt Middle School Wheat Ridge and Brady High School Lakewood.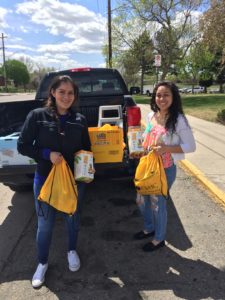 We receive our food mainly from our programs with Food Bank of the Rockies. We provide shelf stable healthy foods and produce and other food items. Our program is 100 per cent about weekend food for those who are at risk for hunger on weekends.
Our program supports children all year round including summer time. We have a vision and strategy to expand to fill needs of more schools in our specific and targeted geographic areas of Lakewood, Arvada, Wheat Ridge, and Edgewater. We started our program because these geographic areas were not being served with a backpack weekend food program.
We have gotten strong feed back from parents that they want more fresh produce and we shall meet that goal.