Since Spring 2017 we have made many friends at Jeffco Eats.  We have so much fun each week together and we also have people who come help with back pain and heart aches.  
In May we had a woman who is part of our Danish Sisters group come help pack 100 tote bags.  She was getting really hot and tired.  I saw the hour or so of packing was really getting to her.  To my surprise I found out she was 85 years old.  She had driven from Parker to come help us.  Thanksgiving has many faces.
On August 5th we had our first fundraiser at Golden City Brewery. We could not believe that over 150 people showed up to support the program work.  Of course, we had Eli Baumgarten on Keys !  A family came up to our table and said that they were teaching their children to give and to serve.  They believed that Jeffco Eats was just the type of cause they wanted to be part of. 
Then there was little Ella who was our youngest volunteer for our summer packing of 450 totes at Glennon Heights Elementary every Friday this summer.  Ella is two and she held the plastic bag with her two little hands and her mom gentle dropped the seven items into her bag.  She did need a bit help when the last item went in.  Seven pounds of food was a bit heavy for her two year old hands.
Monica Cespedes was one of our first regular volunteers when we packed the tote bags at St Pauls Episcopal church which is our office location at 9200 W 10th Avenue Lakewood CO.  Monica is a very dedicated PTA leader for Eiber Elementary.  Her children would come many times during their summer vacation to help others.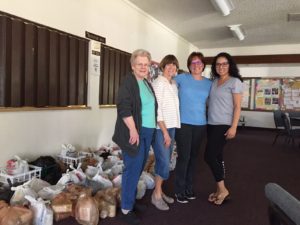 During 2017 we have gladly observed that usually half of our volunteer work is done by children and youth.  Families always thank us that we are "family friendly" as a program.
We use Metro Volunteers website and program to help keep a steady flow of volunteers coming to drive and pack each week.  
A volunteer registered with Metro Volunteers has expressed interest in one of your volunteer opportunities.
Volunteer Opportunity: Pick up Food at Food Bank of Rockies with our cargo van
Occurrence: 12/1/2017 8:00 AM
Volunteer information:  You can sign up at:  https://www.metrovolunteers.org/partner-portal/volunteer-opportunity-details/a0N4400000MrZFG