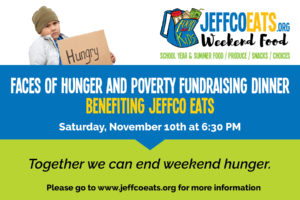 It is always amazing to see how the good in all of us joins together when most needed.
We are delighted to see the support for ending childhood hunger, just as Mayor Adam Paul has pronounced for the City of Lakewood Colorado.  We are a young non profit with only a couple of years under our belt.  However, when joined with those like Jeffco Action Center and Community Table Arvada and Hunger Free Colorado and Blueprint for Hunger we got what it takes to destroy hunger.
Our get together on November 10th is not meant to be fancy, it is to celebrate the children and families.
Our guests of honor are children —
from Emory and Mulholm Elementary to sign and dance our hearts away.
Please join us in thanking our CORPORATE SPONSORS
First Bank, A 1 Rental, Rocky Mountain Farmers Union, Farmers Insurance. 
PLACE
Hampton Inn – Lakewood
BEVERAGES
Beer Depot – Beer and Wine
Marshall's Liquor –Beer and Wine
Don's Bar – Beer and Wine
Denver Beer Company – Beer
FOOD
Olive Garden – spaghetti/bread/salad
Bonefish Grill – appetizers
Gluten Free Things – bread and desserts
Samples – Soup
240 Union – Soup
Rheinlander Bakery – Desserts
La Patisserie Bakery – Desserts plus gift basket worth $350.00
Colorado Cookie Company – Desserts
AUCTION ITEMS
American Girl Doll worth $150.00
240 Union Restaurant – $25.00 GC
Panera – Bread for a Year certificate
Three Margarita's – 2 $25.00 GC
The Egg and I – 2 $20.00 GC
Tokyo Joes – $25.00 GC
Jose O'Sheas – $25.00 GC
The Keg – $25.00 GC
Chipotle – $100.00 GC
Hickory Baked Ham – GC for a Free Ham – 40.00 value
Right Coast Pizza – 2 $25.00 GC
Bandimere Speedway
Butterfly Pavilion – Pass for 4
Simply Sud-Sational Soaps – Soap Basket
Two Rivers Coffee – 2 $25.00 GC
Pietra's – 3 $25.00 GC
Clancy's – 2 $50.00 GC
Steubens – $50.00 GC
Morrison Inn – $30.00 GC
BeauJo's Pizza – 2 -$25.00 GC
Wahoo Tacos – Gift Basket
AMC Theatre – 4 tickets to show
Hacienda – $25.00 GC
The Butchery – $50.00 GC
A Bottled Revolution'- Wine Tasting Party for 20
Carl's Pizza – $30.00 GC
La Fonda – $50.00 GC
Tan and Tone – $25.00 GC
Kismee's Clothing – Party worth $500.00
Rubio's – $40.00 GC
Jump Street – $30.00 pass
Naked Aspen Design – Wood Box worth $40.00
Arvada Rent-All's – Weed Eater worth $150.00
Sam's Club – $50.00 GC
Denver Botanic Gardens – Day Pass for 4
River and Woods – 2 $25.00 GC
YaYa's  – Champagne bruch for 4 – $140.00
Christmas Tree Skirt worth $100.00
Process Maintenance Services – $40.00
NeverSummer Snowboard – First Bank
1 night stay at Homewood Suites $150.00
Mad Greens – $50.00 GC
Edible Beats – $50.00 GC
Jacks Bar and Grill – $25.00 GC
Two Rivers Coffee – Gift Basket
Chuy's – $45.00 meal GC