We are in week two of our summer food program for children and families.  We will be providing about 4500 lbs of food or more each week to 20 locations.  Summer is the time when children and families are much more food insecure.  Forty two percent of a child s weekly food is gone when school closes.  That is 10 meals of 21 meals a week.  Breakfast and lunch are no longer coming from USDA food services at schools .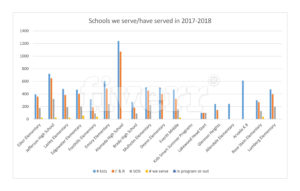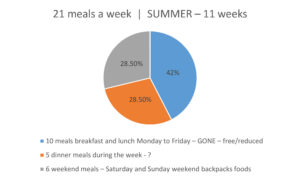 Would you consider providing $40 dollars to cover one child for ten weeks of summer food ?  This will include a weekly bag of shelf stable food for child and family weighing about 7 to 9 lbs and including vegetables, pasta, breakfast items, peanut butter, healthy snacks. We then provide at sites fresh produce like watermelon, and tomatoes and spaghetti squash and potatoes and onions and sweet potatoes.  We also give awesome healthy snack foods which the children and families so appreciate .
    Please click now and donate, $10, $25, $40 or $100.  Many backpack programs like us do not work in summer so we really need your help in supporting our work for these very needy children.
SUMMER FOOD SITES INCLUDE:  Rose Stein and Wilmore Davis and Lasley Kids Smart , Splash Pool, Lakewood Head Start, Maplewood, Cedar Groves, Timber Leaf, Lamar Station, Trailer Parks, Green Gables, Ray Ross Park, Belmar Grove.  We will be at the SUMMER FOOD SERVICE PROGRAM KICKOFF EVENT June 12th at Emory Elementary with a booth if you want to learn more about us.   We will be providing food on two days for their mobile cafe and also help 80 children a day at a summer camp at New Life Church in Lakewood.
We work on a very tight budget and truly are so grateful for any donations.  Perhaps your children could do a lemonade stand and raise money for other children so they can eat.  We need volunteers every Friday so go to http://www.metrovolunteers.org   to sign up.  We need 35 men women and teens and children each week.  This Friday we will be getting 6000 lbs of food to be offloaded from our U haul truck from Food Bank of the Rockies and then our packing teams start bringing together our substantial food bag for the child and family.  Together we can greatly reduce Summer hunger.