School is out and we are ready to bring weekend food #JeffcoEats
This is the second year where we have held our breath wondering, "Oh my gosh what are the children going to do now".  Well last summer we at least helped 450 children have weekend food at about 12 school sites.  We are doing more strategic planning in collaboration with others to really move the dial of hunger down this Summer. When school vacation starts so does 42 % of a child's food possibly go away.  We have collaborated with several groups to so far have 20 sites where we will be bringing weekend food for the children.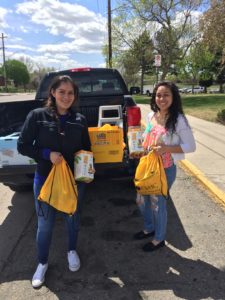 We will be providing weekend food program totes with seven or 8 items and produce and snack food items to apartment complexes, parks and school sites in Lakewood and Wheat Ridge.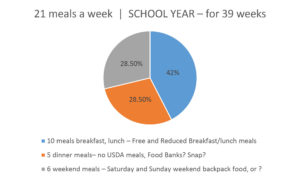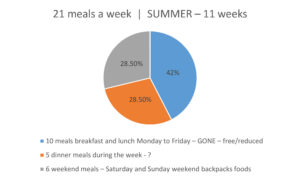 We believe in the fact that synergy is created together and that we can truly greatly reduce summer hunger by diligent and strong advocacy work.  We have spent the last three weeks connecting with those  who might have children present that we could bring hope to with food for the child and family. We are program providers with Food Bank of the Rockies .  We provide weekend food bags and produce and snacks. 
                             Summer 2018 /Locations for Jeffco Eats Weekend Food Program
Lasley Elementary – Kids Smart and Lasley students 1401 S Kendall St, Lakewood, CO
Americana Apartments – Teresa Brewer, Mgr. – 12598 W Dakota Ave, Lakewood, CO 80228
Rose Stein – Kids Smart – 80 S Teller Lakewood CO
Wilmore Davis – Kids Smart – 7975 W 41st Ave Wheat Ridge
Metro Housing  –  Maplewood Apartments 856 S Van Gorden Ct Lakewood
Metro Housing –  Cedar Gardens 6990 W Cedar Ave Lakewood
Metro Housing – Marston Pointe Apartments – 7875 W Mansfield Pkwy Lakewood
Metro Housing – Belmar Groves – 259 S Teller St Lakewood
Metro Housing – Lamar Station Crossing – 6150 W 13th Lakewood
10. Mulholm Elementary –  Tentative TBA
11. Emory Elementary   – Tenative TBA                   
12. Timberleaf Apartments – 1388 Garrison Street Lakewood – Mgr – Sarah 303 232 4196
13. Mission 98.org apartments – – 8 locations/ Green Gables -2575 S Sheridan Street Lakewood
14. St Bernadette Catholic School – 1100 Upham Street Lakewood CO . Not weekly just for                           special events . Vacation Bible Study time-frame.         
15. Food Services Jefferson County Schools – mobile – TBA
16. Head Start Lakewood – Patterson Cottages –  – 1480 S Yarrow St, Lakewood, CO 80232                                      
17. Ray Ross Park – 680 S Harlan St Lakewood – near Jewish mobile unit/lunchbox express
18. Surfside Spray Park – 5330 W 9th Ave Lakewood – near Jewish mobile unit lunchbox express
19.Trailer Park -Mitchells Mobile park and Mountain Air Park  10403 W Colfax Ave
20. Lakewood Link –  – 1295 S Reed Street Lakewood
We need volunteers to drive on Thursdays or Fridays to deliver food to sites.  Sign up at www.metrovolunteers.org .