Facts on Summer Hunger for Children in USA and Colorado #JeffcoEats
Summer food for children is reduced to about 18-20 % of what is given by USDA food programs during school year.  If you need to find a food bank for summer here is a link:http://www.feedingamerica.org/find-your-local-foodbank/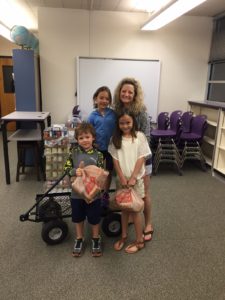 WHAT IS THE SUMMER FOOD SERVICE PROGRAM (SFSP)?
The Summer Food Service Program began in 1968. The Summer Food Service Program (SFSP) is good,
nutritious food that's "in" when school is "out". Its purpose is to ensure that children in low-income areas
could continue to receive nutritious meals during long school vacations, when they do not have access to
school lunch or breakfast.
HOW DOES THE SFSP WORK?
The Summer Food Service Program is administered at the Federal level by the United States Department of
Agriculture (USDA), Food and Nutrition Services. The Colorado Department of Education's Nutrition Unit
approves sponsor applications, conducts training of sponsors, monitors SFSP operations, and processes
program payments.
WHO CAN SPONSOR A SFSP?
Sponsors must be organizations that are fully capable of managing a food service program. To be a sponsor,
you must follow regulations and be responsible, financially and administratively, for running your program.
Which types of organizations are eligible to sponsor SFSP?
Public or private nonprofit schools
Units of local, municipal, county, tribal, or state government
Private nonprofit organizations
Public or private nonprofit camps
Public or private universities or colleges
Community and faith based organizations
Sponsors of sites, which are not camps, must serve either;
1. A site in an area in which at least 50% of the children, who live in that defined area are eligible for
free or reduced-price meals in the National School Lunch or School Breakfast programs.
2. A site which enrolls children, at least 50% of whom meet the SFSP's Income Eligibility Standards.
At non-camp sites, reimbursement may be claimed for all meals served that meet SFSP guidelines. Sponsors
offering the SFSP at camp sites may claim reimbursement only for the program meals served to enrolled
children who meet the SFSP's Income Eligibility Standards.
WHO CAN PARTICIPATE?
All children 18 years of age and under who come to an approved open site or to an eligible enrolled site may
receive meals.
At camps, only the children eligible for free and reduced-price meals are reimbursed.
Individuals over 18 who are enrolled in school programs for persons with disabilities may also receive meals.
WHAT IS A SITE?
A site is the physical location, approved by the state agency, where you serve SFSP during a supervised time
period. The five types of sites are:
YOUR SITE IS: IF: BASED ON:
OPEN At least 50% of children in the area are eligible
for free and reduced price school meals
Area eligibility data from the local
school or census block group
ENROLLED At least 50% of the children enrolled in the
program are eligible for free and reduced price
school meals
Income eligibility statements
describing the family's size and
income
CAMP It offers a regularly scheduled food service as
part of a residential or day camp program
An individual child's eligibility for
free and reduced price meals
MIGRANT It primarily serves children of migrant workers Appropriate certification from a
migrant organization
NYSP It is a college or university participating in the
National Youth Sports Program
A child's enrollment in NYSP
MEAL SERVICE REQUIREMENTS
Sponsors purchase or prepare meals and serve them to the children at the site(s). Sponsors may claim
reimbursement only for meal types they are approved to serve. Non-camp sites can serve either 1 or 2 meals
each day. Sites which are camps, or which primarily serve children of migrant families, may serve up to 3
meals per day (any combination of breakfast, lunch, supper, or snack).
HOW ARE SPONSORS REIMBURSED FOR THE MEALS SERVED?
Forms documenting how many meals were served for the month must be submitted to the State agency. The
sponsor will be reimbursed at meals times rate of reimbursement.
HOW DO ORGANIZATIONS APPLY TO BE A SUMMER FOOD
SERVICE PROGRAM SPONSOR?
If you think you may meet the qualifications;
Complete a PROSPECTIVE SFSP SPONSOR INFORMATION FORM
OR
Contact Connie Harlow, Senior Consultant, CDE Nutrition Unit, @ (303) 866-6650
In accordance with federal law and U.S. Department of Agriculture policy, this institution is prohibited from
discriminating on the basis of race, color, national origin, sex, age or disability.
To file a complaint of discrimination, write USDA, Director, Office of Civil Rights, 1400 Independence
Ave. S.W., Washington D.C. 20250-9410, or call (800)795-3272 (voice) or (202)720-6382 (TTY). USDA is
an equal opportunity provider and employer.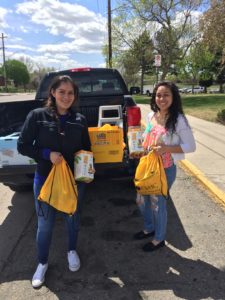 http://money.cnn.com/2015/06/22/news/economy/hungry-kids-summer/index.html
No more teachers. No more books. No more free lunch.
A record 21.7 million American kids get free or reduced-price lunch during at school. But when summer vacation starts, the vast majority of them go without this essential, federally funded benefit.
Fewer than 4 million kids — or just 18% of those in the school lunch program — are fed through the U.S. Department of Agriculture's summer food program. While that's a record number for the 40-year-old initiative, many advocates and government officials say more needs to be done.
"In the summer, when those school meals disappear, children find themselves hungry and with few options," said Duke Storen, a senior director at Share Our Strength, which aims to end child hunger. "It impacts their health and well-being and contributes to learning loss."
https://www.fns.usda.gov/sfsp/summer-food-service-program
Summer Food Service Program
The Summer Food Service Program (SFSP) ensures that low-income children continue to receive nutritious meals when school is not in session. This summer, USDA plans to serve more than 200 million free meals to children 18 years and under at approved SFSP sites.
Help us ensure that no child goes hungry this summer.
Spotlights
https://www.fns.usda.gov/sfsp/sfsp-fact-sheets
During the school year, 22 million children receive free or reduced-priced mealsthrough the National School Lunch Program. When school is out during the summer months, however, only 3.9 million receive free or reduced-price meals through the USDA Summer Food Service Program. This gap of 1 in 6 summer to school-time participants is the result of various barriers experienced only during the summer, including a lack of access to meal sites, insufficient program awareness, and limited resources when schools are closed.
Summer Feeding Program & Local Food Banks
The Feeding America nationwide network of food banks operates several summer food service programs during the summer that seek to close this gap. These programs help meet the needs of low-income children and their families who face hunger in the summer by providing them with nutritious meals and snacks when school is not in session.
Feeding America network summer interventions include summer meal programs like Kids Cafe®, BackPack programs and School Pantry programs. Food banks often employ other innovative meal distribution models, such as Picnic in the Park programs, which are designed to most effectively utilize the resources available to fill the gap in services for children during the summer months.
When school is out of session, community summer food programs make up the majority of food distributed. These programs typically receive reimbursement through the USDA Summer Food Service Program for meals provided to eligible children. Last year, the Feeding America network served 5.7 million meals to more than 178,000 hungry children through the Summer Food Service Program, which represents a 15% growth in meals distributed from the previous summer.
Find a Summer Food Service Program near you.
Need More Information?
For additional information on the Summer Food Program or any of Feeding America's child hunger programs contact the programs team.