Volunteer as a group with us at Food bank of Rockies this year
It is January and the whole year is ahead of us.  We ask you to consider volunteering at Food Bank of Rockies our partner agency.  We will get credit to buy food for the children from your hours served.  This is such a worthy cause and you help two programs that support alleviating hunger with one four hour shift.  We are registered as Harvest Mountain Ministries so when you sign up as a group use this name.  We do business as Jeffco Eats, but our ein name as a non profit with Food bank Rockies is Harvest Mountain Ministries.   Here is list of variety of ways your group could help. The link to sign up is :
https://www.foodbankrockies.org/volunteer/
Opportunities
Assistance is primarily needed Monday – Friday, 8:45 am – 12:00 pm and 12:15 pm – 3:30 pm. We also have Saturday opportunities that fill up quickly. Volunteers must be at least 14 years old (accompanied by an adult) or 16 years old to volunteer on their own. Volunteers must be 18 years or older to volunteer in our kitchen. For Saturdays, prior authorization is required for younger volunteers.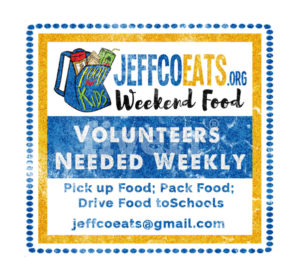 Distribution

Pull and build orders from warehouse inventory for our member agencies. Requires the ability to repetitively lift 10-30 lb cases.
This is the area we need help most!

Reclamation

Inspect, clean, sort and box items received through food drives and grocery rescue before they are distributed to clients. This area requires an attention to detail and is a low-impact/physical area.

USDA – CSFP Box Packing

Work in an assembly line filling boxes for the USDA's CSFP food program. A variety of positions within this area are available from low impact to physical tasks. For groups 10 or larger.

Only available select days

Community Kitchen

Help prepare meals for our Kid's Cafe program. Work may include prepping food, cooking, cleaning, and other duties. Must be 18 for this area.

Limited availability, long term volunteers desired.

Produce Sorting

Sort through bulk produce so that we can get quality nutritious fruits and vegetables to our partner agencies. A variety of positions are available in this area and is great for groups.

When available.

TEFAP Nome Street

Pull and build orders at our warehouse for agencies participating in USDA food distribution programs. This opportunity is located at 3900 Nome ST, Unit T, Denver, CO 80239. Requires the ability to repetitively lift 10-20 lbs.

Only available select days

After School Snacks

Build snack orders for our agencies that participate in the after school snacks for tutoring program and then transport the orders to the waiting vehicles from our warehouse.

Available on Tuesdays.

Totes of Hope™ Programs

Build totes for children and load them into vehicles for our agencies.

Available on Fridays.

Office Work

Assist with mailings, non-solicitation phone calls, filing and/or other miscellaneous tasks.

Available on a very limited basis.