Sad But True – Children Who Hoard Food
Children Who Hoard Food
Jefferson County Colorado and all school districts have training on dealing with all types of trauma in the lives of their students.
DEFINITION OF TRAUMA :  a disordered psychic or behavioral state resulting from severe mental or emotional stress or physical injury; 

an emotional upset
Maslow's hierarchy of needs: Maslow's Hierarchy of Needs describes the basic needs that all human beings have and organizes those needs into five categories. Each of those categories of need is placed in the hierarchy; if the most basic need is not met, then Maslow's theory proposes that none of the needs higher up in the hierarchy can be met.
Learning and emotional growth are highly impeded and blocked by HUNGER needs.
We will over the next few months provide some thought provoking reasons why we must strive to meet hunger needs quickly.  We can ruin a child's life and their family and relational selves.
Hoarding food is a common behavior in children who have been deprived of adequate sustenance early in life. It can manifest in many ways, including hiding food around the house, overeating to the point of throwing up, or becoming extremely anxious at having to wait for meals to be prepared. A child may also become very upset upon seeing someone else eating.
Although hoarding may be directly related to the child's history with food, it can also signal difficulties with control and trust. Children communicate their needs through behavior. Hoarding may be a sign that your child does not yet trust that his needs will be met. It could also be an indication that he has micro-nutrient deficiencies and is craving foods that contain nutrients that his body is lacking.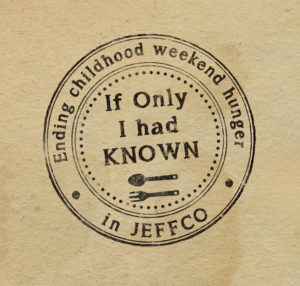 Utilizing Ellyn Satter's "Division of Responsibility" can help your child feel more secure around food. Satter recommends that parents decide what to eat, where to eat, and when to eat. Children can decide ifthey want to eat and how much to eat. Letting a child who tends to eat too much decide how much they want to eat can be hard for some parents. But keep in mind that children who are restricted from eating tend to eat more in the long run.
Hoarding behaviors should be discussed with your child's pediatrician. In the meantime, the following suggestions may help the child feel more secure around food:
Stick to a predictable routine for meals and snacks (roughly every 2-3 hours for toddlers and preschoolers and every 3-4 hours for older children)
Don't yell, threaten, punish, withhold, or reward with food. Don't try to shame a child for the hoarding behavior. Threatening your child will never diminish or eliminate the urge to hoard food.
Don't put locks on the kitchen cabinets.
Consider giving your child her own accessible food cabinet to store snacks that are hers and hers alone.
Let your child carry a snack in her backpack; it will give her security just to know it's there.
Keep fruit out on the table during the day so your child knows food is always available.
Don't eat off your child's plate, even if he appears to be finished.
Remain calm and offer reassurances such as "there will always be enough."

Help families you know come up with a life game plan to get to a food bank or get SNAP enrolled. We must love our neighbor as we love ourselves.